BRAND STORY
The creation of the "Rose Machine", a rotary press wallpaper printer, was announced as a brand-new piece of tech nology at a Paris Exposition held in the latter half of the 19th century. Current printing technology at the time was only able to print up to 6 different colors, but the "Rose Machine" was capable of up to 8 colors, and visitors to the Paris Exposition at the time praised the rose pattern wallpaper shown with the printer as looking just like the real thing, giving it the charming nickname "Rose Machine", a name that does not conjure up the image of a large metal body.
Once the 1960s came, the more precise production of wallpaper in larger amounts and at cheaper prices started being demanded by consumers, and the "Rose Machine", with its strong craftsmanship elements, retired from duty.Time passed, and Mikael, a wallpaper printer, in search of an old rotary press, visited a closed French wallpaper printing company. There was an abandoned botanical garden next to this wallpaper printing company, and a "Rose Machine", which was covered in vines and no longer operating, slept silently within a forgotten glass greenhouse located on the grounds of this old garden. Mikael brought this "Rose Machine" back with him to Sweden, and began creating wallpaper as part of his massive collection of rotary presses.
"Rose På Mölndal" is an original brand of products that use antique wallpapers from Sweden's venerable wallpaper maker, LIM & HANDTRYCK AB.
The subtle surface irregularities of rotary printing machines and the exquisite color and unique feel of the naturally uneven mineral pigments create an aesthetic impact completely unlike modern mass-produced products that merely reprint old designs. These special wallpaper products have been carefully crafted from original materials and technologies of printing machinery, paper, and ink, all from the time that the wallpaper was first produced.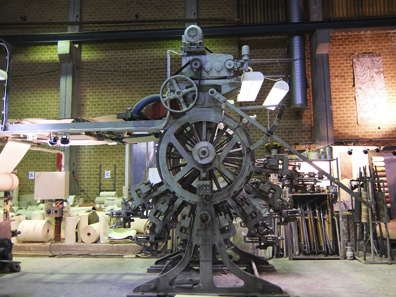 WALL PAPER LIST
Over 3,000 styles of LIM & HANDTRYCK AB wallpapers were made from the 1700s to the 1960s. There are large collections of antique rotary-printed wallpapers from central Europe and Scandinavia. With Rose På Mölndal, we plan to create original products from wallpapers selected from these vast collections. Some of these wallpapers have names and historical backgrounds. We introduce them briefly here.